OUR DESIGNS: READY FOR YOUR CUSTOMIZATION
As tiny home builders, your satisfaction is our priority! Design your tiny house for free using our floorplan! We have compiled a selection of finishes and options for you to choose from. Click on one of the buttons below to get started and we will guide you through each design aspect of our units for your customization.
Need more space? Design your own Villa Max, our most popular choice for a Park Model.
Have your Tiny Home RV designed just the way you want. Customize to fit your lifestyle and budget. Start large and design your tiny house now!


customize a payette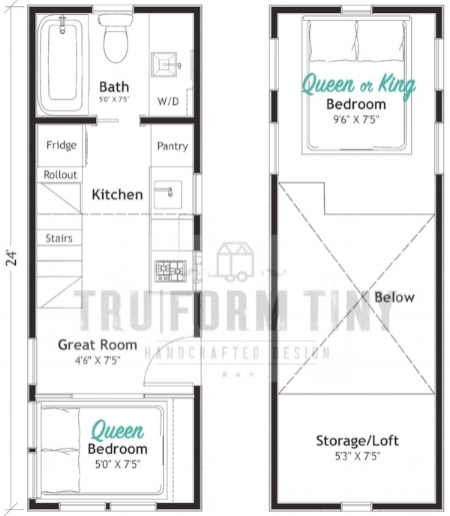 20', 24', 28' LENGTHS
Quaint galley kitchen in 2 sizes
Upstairs loft
Great room entrance.
Units 24 ft and larger include a downstairs bedroom & 2nd loft.
Bedroom or loft can be omitted in the design process.
Ladder or stairs
3 ft or 5 ft bathroom
3 exterior styles


customize a kootenay



Example Floor plan: 24' KOOTENAY
22', 24', 28' LENGTHS
Full size peninsula kitchen
Drop-down deck
Large upstairs loft
Kitchen entrance (22' has great room entrance).
Main floor bedroom option on 28' model
24ft & 28ft have a 2nd loft option.
Ladder-only for 22 ft models (stair option for larger units)
3 ft or 5 ft bathroom
3 exterior styles


customize a verve
16', 22', 28' LENGTHS
Single level studio layout
Galley style kitchen
Urban/Modern design
Lux includes bathroom bump out, drop down deck, wood awning, table, conversion couch & additional cabinetry.