The Kootenay has a larger loft which adds to its square footage. The kitchen is a peninsula style, and includes a leaf (caters to socializing), simultaneously offering counter and dining space.  This unit has a robust kitchen. Front door is on the side allowing a fold down deck. For larger units door placement is off kitchen – leaving more space in great room. This model also has our most open lay out. Architectural add-ons include a bump out nook, stairs with ample storage, large 5 ft bathroom, dormers to 2nd loft, and skylight above main loft.  Three living space lengths available:  22, 24, & 28 feet, and all are 8'6″ wide.
The images below show the 22′ Kootenay in the Urban Exterior.
Lengths available for the Kootenay
22 footer is 258 sf                 24 footer is 273 sf                 28 footer is 304 sf  
Floor plan for the KOOTENAY
Floor-plans are driven by kitchen size and utilization, which determine loft size, & possible stair options.  longer trailer lengths eliminate some limitations.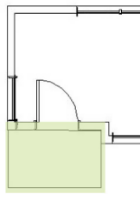 A deck is included with all Kootenay Units.  It becomes wider when a nook area is added to the 22′ floor plan.
---
kootenay ARCHITECTURAL ADD-ONS